It's no secret that the team here at BYY HQ likes to shop, and top of our have-to-have-it list is anything that makes the day-to-day life of parents easier – and that's exactly why we've put together this list. Below you'll find our pick of the very best products that we can't live without… and we know you'll love them, too!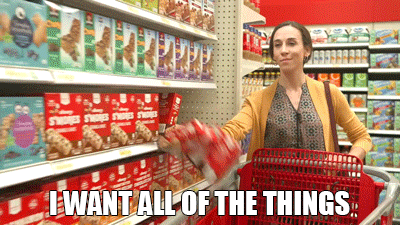 The Nuby tear-free rinse pail
We're always on the lookout for life-changing products that make the lives of busy moms a little easier, and here's one we can't recommend enough: the Nuby rinse pail. If washing your toddler's hair inevitably involves tears and tantrums, this nifty little buy is exactly what you need. It has a soft, contoured edge that can be placed directly against your baby or toddler's forehead to help prevent water from running into their eyes as you rinse the shampoo from their hair. Genius!
New Medela Swing Maxi Flex™ Double Electric breast pump
Medela's range of breast pumps covers all the potential needs of breastfeeding mums. The new Medela Swing Maxi Flex™ Double Electric breast pump is ideal for mums who need that extra bottle in half the time.
This pump comes with the new PersonalFit Flex™ breast shield that offers a whole new pumping experience, personalised to you. Enables double pumping for more milk with a higher energy content than expressing from each breast in turn.
The Medela 2-Phase Expression® technology mimics babies' sucking for a more natural pumping experience This portable double electric breast pump with 2-Phase Expression® technology is ideal – whether you're aiming to maintain your supply or simply want more time with your baby and less time pumping.  Also available in a Single Electric breast pump, Medela Swing Flex™. Available at Dis-Chem, Baby City, Takealot, ToysRus and Yooper.
New Squish 200ml pouch size
South Africa's, well-loved, convenient baby food brand, Squish has launched a South African first, a new larger 200ml pouch size especially for toddlers and their growing appetites.
The new, bigger 200ml pouch range sees the popular baby and toddler food brand extending its existing range of ready-to-eat 100% fruit and veg and yoghurt purees and pressed juices, giving parents another reason to love the 100% goodness and convenience of Squish. The range includes three yoghurt flavours and three 100% fruit puree flavours packaged in the convenient new, bigger 200ml pouch.
The products are available nationwide at top-end retail, wholesale and specialist chains – find Squish in the baby food section. For more information visit: www.squish.co.za
Lil-Lets Maternity Pads
These are a hospital bag absolute must-have. Becoming a new mom is a beautiful yet overwhelming time – and you shouldn't have to compromise on your comfort before and after giving birth. This is why Lil-Lets Maternity Maxi Pads are designed with moms in mind. As the only maternity pads with wings (finally!) they help you feel secure, while the extra length and wide-shaped back gives added coverage and protection.
They're also fragrance free, highly absorbent and cushioned for a super-soft feel against your delicate skin. Choose what works for you with Lil-Lets Maternity Pads, so you can focus on making those precious memories. Available now in store and online.
Keedo's mom.me range 
You know all those gorgeous mommy-and-me photos you see on Instagram? You can recreate them yourself if you pop into your closest Keedo store to check out their gorgeous mom.me range of matching dressing gowns, baby grows and blankets (some varieties even come with a matching beanie for bub!). Our in-store fave? The Willow Set. The gown is designed to provide utmost comfort and convenience to pregnant and breastfeeding moms, and the onesie has a cross-body zip to make nappy changes a breeze. There you go, now you've got the perfect excuse to do a (stylish!) pajama day – you're welcome!
Safety 1st Metal Baby Gates (Easy Close, Auto Close and Flat Step)
Safety for them. Confidence for you. As a leader in child safety, we're obsessed with giving parents peace of mind. With our range of metal baby gates, we help parents through all their firsts to ensure that their little ones can discover life safely.
Our Easy Close Metal Baby Gate combines simplicity and quality. It opens in both directions with a double locking mechanism. It allows simple one-handed opening and closing. Y-spindles are available for rounded balusters. It offers a threshold of 3cm from the ground.
The Auto Close Metal Gate offers an easy-to-use automatic closing mechanism with a Secure Tech indicator lock. It also opens in both directions for convenience with the same 3cm threshold from the ground.
Lastly, the Flat Step Metal Baby Gate offers a thin step over bar to avoid trip hazard. It comes with a close -assist system that opens by lifting the handle and closing it with a simple press down movement. It also offers a "keep open" system for when the kids are not around. Available at Baby City, Takealot, Makro, ToysRus and Yooper.
LeeBex
When a curvy woman designs clothes for other plus-size ladies, you can be confident that she knows
exactly
what she's doing.
LeeBex
creates gorgeous clothing for women sized 34 to 50 who love their curves and have the confidence to show them off.
Browse the online shop and you'll find mesh bodysuits, tiered dresses, bodycon dresses, pencil skirts and much, much more. Expect fabulous prints, flattering tailoring and ultra-comfy loungewear. We want it ALL.
Bepanthen Nappy Care ointment 30g, 100g
Bepanthen Nappy Care Ointment is specifically formulated to protect and care for the vulnerable skin of young babies.
Contains Pro-Vitamin B5, which gently aids natural skin recovery, while keeping it soft, smooth and moisturized3,4.
Keeps skin healthy by forming a protective and breathable barrier that reduces contact between your baby's skin and irritants1,2.
It can be used at every nappy change to provide regular care and protection5.
Free from fragrance, preservatives and antiseptics to soothe even the most delicate skin5.
References
de Bony R. Introduction to New Nappy Rash Expert Panel. Asia Pacific Workshop. Feb 10 2004.
Proksch E et al. Topical use of dexpanthenol: a 70th anniversary article. J Dermatolog Treat 2017. Available from https://doi.org/10.1080/09546634.2017.1325310.
Putet G, et al. Effect of Bepanthen® Ointment on the prevention and treatment of diaper rash on premature and full-term babies. Réliatés Pédiatriques. Dec 2001.
Pugliese PT, Farina JC, Chauitems Y. Efficacy of Dexpanthenol in Wound Healing: Double blind assessment on excised wound tissue evaluation by ultrasound and histologic examination. Nouv. Dermatol. 1995;14:130-138.
Package insert.