New Year = brand new things to lust over. And while January can feel like the longest month of the year, we think that's an even better reason to spoil yourself with one of these brilliant buys. Go on… you deserve it!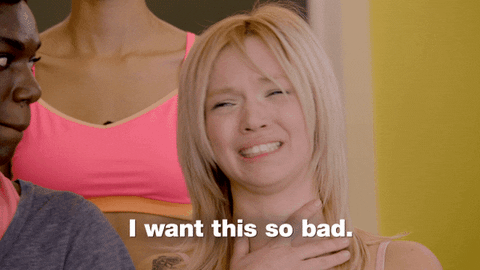 Nylon kids knife set
It's here: the knife that will change your kitchen prep forever. These colourful, serrated knives easily cut fruit and vegetables but won't cut (human) skin, making them the perfect kitchen buy if you have kids in the house. Now they can help with meal prep minus the stress of major injury – yes, please! And, before you ask, of course they're dishwasher safe. This fab online store also sells bibs, lunchboxes, clothing, wall stickers and more. From R149 (currently on special) for a set of three, available from TrifleTots
FitCurves Activewear
At last, comfortable activewear available in plus sizes – because everyone deserves to be able to work out in attractive clothing. The founder describes herself as a "larger lady" and says that "there is nothing more off putting than building up the courage and motivation to exercise and then not being able to find any clothing suitable to do it in." And you'll find more than just the usual black and grey gear here. Think fun prints, stretchy fabric and everything available up to a size 4XL. From R885 for the racerback top and high-waisted pants set, and from R520 for the tights only, available online from FitCurves.
Personalised desk calendar from Loop Printing
Choose 12 of your favourite photos and Loop Printing will turn them into a customised desk calendar that you can enjoy all year! Yes, January probably is the right time to get this done but you can choose to start the 12 months at any point so it's still a great gift option for people who celebrate birthdays in the middle of the year. Our pick of the best? The personalised desk calendar for R348 and the mini desk calendar for R300. You do everything online and the company will send you a pre-print proof by request – it really is so easy. For more info visit Loop Printing
Pony Peaks
Kids love the hats from Pony Peaks because of their gorgeous, fun designs and parents love them because they're designed with little ones in mind: each peak is lightweight, water-friendly, quick-drying and adjustable so it will actually grow with your child. Another thing to love? The hilarious names they've given each of the peaks: top of our wishlist are Alarm-a-llama and Hoot n Hola. From R220 each from Pony Peaks.
Paint by numbers (for grown-ups!)
You don't need to be an artist to create a masterpiece of your own – paint your way to an impressive artwork with ease using the simple paint by numbers formula (and your all-in-one kit included the canvas, paintbrushes and all the paint you'll need). Haven't done it since you were a kid? Paint by numbers have come a long way since then. You have loads of selection online (or you can pop into one of their retail partners – find a list of them here) and they're graded by difficulty level. Want to paint the Nelson Mandela Bridge? Or perhaps portrait of Frieda Kahlo? A replica of a Klimt or Picasso masterpiece? You'll find everything from arty nudes to abstracts, bowls of flowers or a cat in a cowboy hat – there really is something for everyone. And there's a whole range of paint by numbers for kids too. Enjoy! From R170 for a small canvas and around R350 for a large canvas, from Paint By Numbers ZA
Lullaby Train
Writer and new mom, Lisa Malek, was as fed up with the same old, boring lullabies as the rest of us – so she decided to team up with musician Gad de Combes to do something about it. Meet new band that's undoubtedly going to shake things up in the parenting world: Lullaby Train. Their first single is super-catchy The Burp Song. Explaining why that was the band's first project Lisa explains, 'Having a baby is very admin-intensive and burping is one of the tasks parents must perform regularly. So I took something mundane and made it into something magical, something musical.' Lullaby Train will be releasing more songs over the next few months and they'll all have the band's signature catchy tunes, rhymes an onomatopoeia that will have the whole family singing along. The Burp Song is available on all streaming platforms – you can find it here. You can also follow Lullaby Train on Facebook and Instagram.

Panado Paediatric Syrup 5 ml Sachets
When you have little ones, you will know that there are always times when you need to soothe away hurts or fever, and usually when you are least expecting it. It is even more difficult when things happen while you are away from home or on the go, and you may not have what you need to relieve their hurts.
New Panado® Paediatric Syrup 5 ml sachets contain the well-known and trusted1 Panado® Paediatric Syrup in peppermint flavour but now in a convenient 5 ml sachet that you can just slip into your bag for when you are out and about.2 The sachets contain paracetamol, which boasts over 150 years of clinical experience4 and is gentle on little tummies.3,4,5 It also gets to work quickly to relieve pain and fever.3
Keep new Panado® 5 ml sachets on hand and pack a few sachets in your bag when you go out so you can be ready for your little one's pain and fever any time, anywhere.
Contains Paracetamol. Panado® Paediatric Syrup 5 ml Sachets are for single use only. Always administer using a medicine measure or a syringe. Discard remaining contents of sachet after administration of the correct dosage.
References: 1. IRI Data for MAT August 2021 2. Panado® Paediatric Syrup approved professional information, 25 November 2020. 3. Wilcock A, Twycross R. Therapeutic reviews: Acetaminophen (Paracetamol). J. Pain Symptom Manag. 2013,46(5):747-755. 4. 150 years of paracetamol. GP Pharma Update Mar/Apr 2019. 5. Goodman & Gilman's The Pharmacological Basis of Therapeutics, 13th edition. Chapter 38. Pharmacotherapy of Inflammation, Fever, Pain and Gout. McGraw Hill Education. 2018. ISBN: 978-1-25-958474-9. S0 Panado® Paediatric Syrup. Each 5 ml contains paracetamol 120 mg. Reg. No. B/2.7/1143. For full prescribing information refer to the professional information approved by the medicines regulatory authority. Adcock Ingram Limited.  Co. Reg. No. 1949/034385/06. Private Bag X69, Bryanston, 2021, South Africa. Tel. +27 11 635 0000. www.adcock.com  2021101410160308 October 2021