Can't cope with the lack of cake in your life? Even us. This coconut banana cake may take a bit of effort but the results are worth it. Best of all the kiddos can help mash the bananas and decorate the cake. Everyone can help lick the bowl. Obviously. 
Cake layers can be made a day ahead; wrap each in plastic wrap and store in an airtight container.
This takes about 2 hours to make and serves 12 or 6 people who REALLY like cake. 
Ingredients
250g butter, softened 

440g caster sugar 

4 eggs, lightly beaten 

60g desiccated coconut 

450g self-raising Flour 

250ml coconut cream 

4 medium overripe bananas, mashed 
For the passionfruit frosting
250g butter, softened 

250g cream cheese, softened 

320g icing sugar, sifted 

80ml fresh passionfruit pulp
For decoration
1 medium banana, extra 

10g flaked coconut, toasted 

2 tablespoons fresh passionfruit pulp
How to make the coconut banana cake
1 Preheat the oven to 170°C. Grease 2 x 20cm round cake pans, line base and side with baking paper. 
2 Beat butter and sugar in a large bowl with an electric mixer until light and fluffy.
Gradually add egg, beating after each addition.

On low speed add coconut, then flour and coconut cream in two batches.

Add mashed banana, beat until combined.

Divide the mixture evenly between pans, smooth the surface. 
3 Bake cakes for 1 hour or until a skewer, sosatie stick or toothpick inserted into the centre comes out clean. Cool cakes in pan for 15 minutes before turning out onto a wire rack to cool. 
4 Make passionfruit frosting: Beat butter and cream cheese in a large bowl with an electric mixer until light and fluffy. Gradually beat in icing sugar; then, on low speed, fold in passionfruit pulp.
5 Trim the cakes if not level. Split cakes into 2 equal layers. Place the top cake layer upside down onto a cake stand or serving platter. Spread with 2/3 cup of the passionfruit frosting. Repeat with the remaining cake layers and frosting. Generously cover the top of the cake with the remaining frosting, smoothing around the side to create a smudged effect. Refrigerate the cake for at least 2 hours or until firm. 
6 Just before serving, decorate the top of the cake with sliced banana, flaked coconut and passionfruit pulp.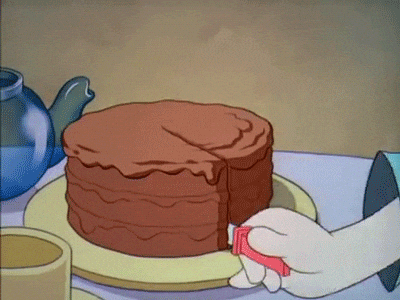 Try making these Bedazzled Biscuits that only require 3 ingredients and that the kids will love decorating (and eating).